We have an enormous amount of Bacon at our house .. you can read why
here.
. so I've been trying to make up new recipes to consume.!!!
This is a really tasty take on pasta, that isn't Italian sauce based.
For two of us…
7 slices of bacon sliced into inch pieces
10 kalamata olives chopped
8 sweet cherry bomb peppers chopped
3 garlic cloves chopped
1 Muir Glen chopped tomatoes,no salt added, drained
1/2 bag of baby spinach
Salt (not needed) & cracked black pepper to taste
Penne Pasta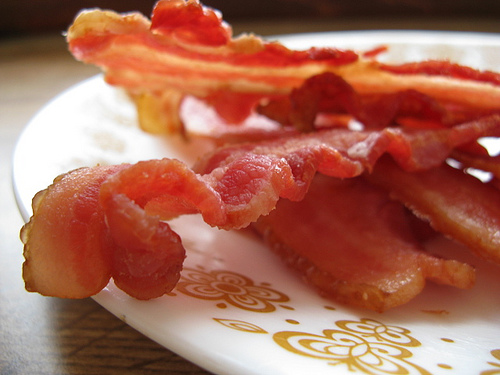 Cook the bacon off and reserve to one side, discard the bacon fat and add a little olive oil to the same frying pan.
At a medium to low temperature cook the garlic for about a minute and then add the tomatoes, peppers and olives
Cook for about 5 minutes until the juice from the tomatoes is absorbed. At the same time cook your pasta in some salted water
Add the bag of baby spinach and the bacon back to the pan. Cook down until the spinach is fully wilted.
Season with salt (I din't think it needed with the olives & bacon) and pepper
Add the cooked drained pasta to the pan and combine
We had with some grated cheddar cheese and it was delicious!
come and visit us over at our deals and couponing blog